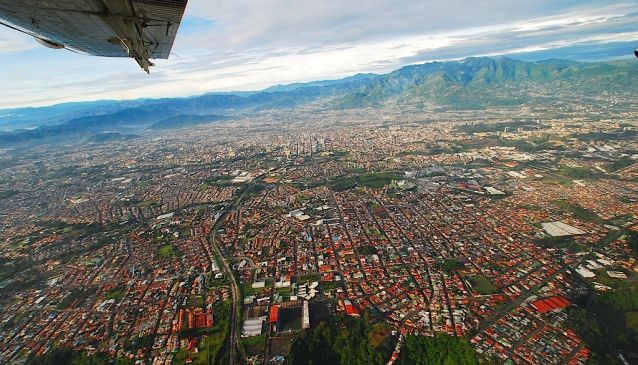 When to fly Costa Rica
Editorial
Jumping on a plane can turn a six hour drive into a 25 minute jaunt over the mountains
If you have limited vacation time and a desire to experience the exotic sites scattered throughout Costa Rica then hoping on a regional flight might be ideal for you. Small regional airports are located in nearly every corner of Costa Rica and most flights inside Costa Rica from San Jose are less than an hour. Jumping on a regional flight can turn a six hour drive or 12 hour bus ride into a 25 minute jaunt over the mountains. Reducing travel time between your desired destinations will allow you to experience more during your vacation.
Costa Rica is a small country about the size of West Virginia and Denmark combined but it's mountainous terrain and rough roads can make travel times longer than you might think and steal valuable vacation time that is better spent on the beach sipping an umbrella drink, or hiking through the jungle searching for exotic birds. For example, driving from San Jose to the Osa Peninsula town of Puerto Jimenez takes between six and seven hours via car or up to 15 via bus, the drive from San Jose to Tamarindo is roughly five hours and the drive to Volcano Arenal is around 2.5 hours. Pay Nature Air or Sansa Airlines $70 and you will arrive in Puerto Jimenez in just under 40 minutes, Tamarindo in 35 minutes and Arenal in 20. If you want to visit Arenal and Corcovado National Park and you only have one week, you can either spend half of your vacation driving or spend an hour in the air. The choice seems like an easy one.
Costa Rica is a beautiful country to travel by car or bus. You can stop at road side vendors and grab a cup of ceviche, catch amazing views from roadside cliffs, and practice your Spanish with friendly Ticos along the way. Costa Rica by air is even more remarkable. You will see vast areas of lush jungle, towering mountains and miles of coastline during the short trip to your destination. Flights are so short that you will arrive at your destination and have an entire day to do the things you want to experience without the stress or exhaustion of a long road trip.
Many people are hesitant to take regional flights because they envision the long lines of international airports and the hassles that come from navigating them. Rest assured, you will not have to take your shoes off or wait in long lines. Costa Rica's regional airports are vastly different from large international ones such as Miami, London's Heathrow and Paris' Charles de Gaulle. The Nature Air and Sansa planes that service Costa Rica seat between 12 and 19 people and most airports only handle between two and four flights a day. These factors together with the reality that these airports are usually found in small, house sized terminals, make them a breeze to navigate.
You only get a certain number of vacation days each year and you have to make the most out of every second. Reducing your travel time by using one of Costa Rica's regional airlines just might make the difference between seeing the ever elusive tapir in Corcovado, catching that perfect wave in Tamarindo or having extra time alone with your loved one.