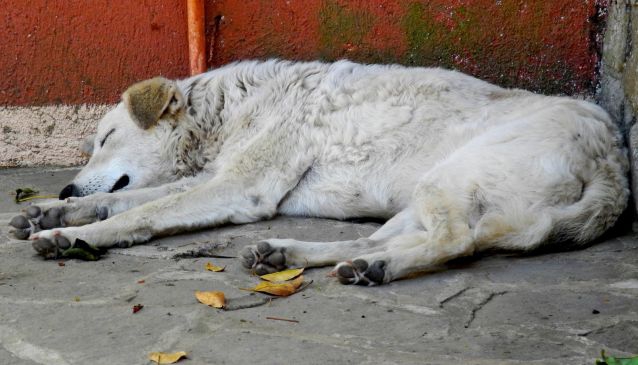 The 'Dog Whisperer' of Atenas
Inspiration
The command and communication this woman has with these animals is simply amazing.
When most people picture Costa Rica they envision long sunny beaches lined with palm trees, or thick green jungle packed with exotic wildlife. Another wonderful side of this exotic paradise that has drawn a large number of retired, or soon to be, Expats to Costa Rica looking for modern conveniences, friendly people, great location and a perfect climate are the small mountain towns of Costa Rica such as Atenas.
Atenas reached worldwide notoriety when National Geographic mentioned that Atenas has one of the 'best climates in the world' this fact helped AARP reach its decision to name this charming little mountain town one of the 'top 10 retirement destinations in the world'. Located in the middle of Costa Rica, Atenas is home to a large number of Expats. The culture in this area is alluring to the foreigners looking to relocate into exotic new surroundings. The native people are warm and friendly, always ready to offer you a helping hand while smiling from ear to ear. It is hard to pick out just one reason to move to Atenas, but if you are a dog lover this may just be that one reason that draws you to the area. Meet the Dog Whisperer of Atenas.
Often in our lives we come across extraordinary people, people that offer the world something beyond imagination, people that touch our hearts like no others. Let me introduce you to the amazing woman behind, Lighthouse Animal Rescue in Atenas, Costa Rica: Frances 'Kitten'Jones. Frances started 'dragging' animals to her Atlanta Georgia home when she was just four years old. She recalls a story of when she was a little girl and her bedroom was lined with cages and crates full of animals in need of care. She goes on to tell me how her mother confronted her father on the issue. She said her mother asked if he knew how many animals were in Frances's room, to which he replied: "No". She went on to ask him if she should make Frances get rid of some of them. He told Frances's mother: "If the house smells clean, the room is organized, and if it causes you no extra work, then he could see no problem in her continuing her pet repair project." The rest is history!
Throughout Frances's life, she has rescued and brought untold numbers of animals back from the brinks of death and placed them in responsible homes. Her love for animals shows in the way her home is set up to be animal-friendly and welcoming to all, even having a fully equipped veterinary clinic. On my recent visit to Frances, I had the good fortune of meeting ten of these amazingly well behaved dogs. Frances would call one of her furry friends by name and they would politely step up to the door while others patiently sat back and waited to be summoned. In all of my 55 years, I have never witnessed anything like this. The command and communication this woman has with these animals is simply amazing.
The day I met Frances and her husband Bruce, I brought her two rescues, making her group of 10 jump to 12. Her home was so spotless you could eat off of the floor. Never have I seen such a clean home/kennel, and to think she allows the dogs entry into this sanctuary was even more unbelievable to me. It was truly a joy to spend time there with her and her furry friends. Frances also has four disabled cats residing in her home and takes in wildlife for rehabilitation. I wonder what she does in her spare time!
I asked Frances how her project was funded, and she said that she and her husband backed the majority of it but on occasion people would make a donation which helps tremendously. As the world economy continues to slide, the animals are one of the luxuries that can be eliminated, or often the first to be neglected. Also during these times donations are sparse among all animal rescue facilities.
If abuse of an innocent animals tugs at your heartstrings, then you may wish to visit Frances's blog and chip in. There is no donation too small. These are the people that do what we often do not have the time for but have a passion for, so please check out her blog and make a donation if possible.
Often I ponder the fact that it is men who domesticated these wonderful creatures in the first place. In my opinion, it is man's responsibility to see that they are tended to as they cannot fend for themselves. Yet, you see so many abandoned creatures left to fend for themselves, it is sad that so many end up dying. A difference can be made, and it can start with all of us. The good deed we do today could be our salvation in the future.
Whether looking into Atenas for a humane project to become involved in, or for the lovely climate and scenery it offers you, you will not be disappointed. The expansive views from some of the mountain properties are spellbinding, for lack of a better word! Costa Rica is filled with beautiful scenery and Atenas is right there at the top with the unmatched beauty it has to offer. Homes in this area can range from $100.000 for a modest dwelling on into the millions for large estates and properties with views of the surrounding valleys. If you would like more information on this area as well as other interesting areas, you may visit the Emerald Forest Properties website. Emerald Forest has associates located in the prime areas of Costa Rica and has been in business 14 years now. Often featured on House Hunters International, Emerald Forest is one of Costa Rica's most recognized real-estate agencies, serving Costa Rica since 1999.
photo credits: 'Sleeping Dog' by Laertes - 'Lovely Ladies of Atenas' by Robert Lesser