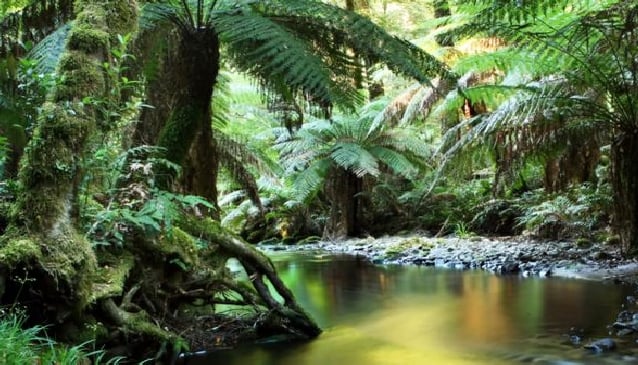 Paradise on the Osa Peninsula
Adventure
Explore the river mouth to get great photo opportunities of alligators, birds and monkeys.
Here at My Guide, we are somewhat averse to throwing around the word 'paradise'. Like a charmless estate agent trying to sell us some soulless property, the word has been overdone, overused and lost all its powerful impact.
However, having just made that bold statement I am now immediately going to break it. Fear not my friends, it's for good reason! Perched in the Pacific Ocean in southwest Costa Rica, the Osa Peninsula is duly entitled to this mistrusted label. Nicknamed 'the most biologically intense place on Earth' by the National Geographic, the Osa Peninsula is one of the most stunning Costa Rica attractions, overflowing with varied vegetation, lush rainforest and deserted, unexplored beaches. Think Jurassic Park, just without the dinosaurs.
Making up for this lack of ancient reptiles, this acclaimed Costa Rican site bursts with its own beautiful biodiversity. Far from just a maze of simply shrubs, vines and leafy trees, Osa has become home to a rich array of colourful plants and exotic animals. Here, scarlet macaws soar along the secluded skyline, Baird's Tapirs crunch along the rainforest floor and cheeky-faced monkeys swing between the luscious tree-top canopies.
Also nestled within the picturesque peninsula's unfurling leaves is the Corcovado National Park. Conserving exotic ecospecies of plants and animals, this nature reserve is a great place to spot some wildlife, hike on forest trails and go on several guided or self-guided expeditions.
As we have all come to know, usually a piece of paradise comes at a price. The sandy shores of Koh Phi Phi Leh, the stage set for that infamous film 'The Beach' failed to live up to isolated expectations for some. However, in the largely uninhabited area of the Osa Peninsula apart from some early Guaymi Indian settlers, paradise continues to prevail. All it takes is for you to find this seclusion is to wander away from the few sleepy seaside towns and surfing spots that exist, (such as Bahia Drake, Pavones or Zancudo), and head into the heart of the rainforest vegetation.
Setting out a jam-packed itinerary, complete with picturesque pit-stops, our local franchise has planned a day of action and adventure to explore the beautiful biodiversity of this peninsula. Here you can experience a safari, truly in the Costa Rican way.
The Paradise Peninsula: Itinerary
Begin your exotic escapade to the Osa Peninsula by flying into the local airport of Puerto Jimenez. We recommend you stay in the nearby quaint town, using Puerto Jiminez as your home-base to go out and explore the peninsula. Once settled at your accommodation, put on your most comfortable hiking gear, grab a bathing suit, a camera, and drive out towards the west of Osa.
Start your adventure by swimming in the gorgeous secluded beaches of Playa Tamales or the Playa Sombrero along the Golfo Dulce. Explore the river mouth to get great photo opportunities of alligators, birds and monkeys. The best views of the entire peninsula and gulf are at Lapa Rios, a quaint eco-lodge hotel on the cliffs overlooking the peninsula. Here, you can stop off at the hotel for some food and drink or simply admire the beautiful panoramic views across.
Next head towards Agua Buena and Carate, the road will stop and your travels on foot will begin. We would recommend hiring a local tour guide, available in either town as the rich information they provide is a great way to see the peninsula through the local eyes. They will take you on safe trails winding through the Corcovado National Park and will ensure you get safely back to your car. Please note that as Corcovado is so large, full of vast eco systems from mountain peaks to primeval rainforests, it is very easy to get lost amongst the wildlife; guides are always a wise choice unless you know the area well.
Finally, after a few days of hiking and exploring Corcovado, take a boat trip over to the Isla Del Coc, a beautiful uninhabited island just off the Costa Rican shores. Here you can swim, scuba dive, or during the right season watch the whales, dolphins and sting-rays that live in these warm Pacific waters.