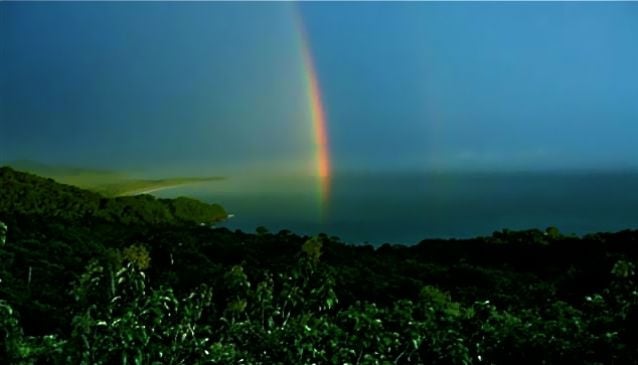 10 Things to do in Costa Ballena
Adventure
Costa Ballena is quickly becoming the hottest tourist destination in Costa Rica
Costa Ballena is a small region of Costa Rica that spans from the Baru river and Playa Dominical in the north, down to Ojochal and the Terraba River in the south. This 30 mile stretch of dramatic coastline offers its visitors amazing scenery, exciting escapades, and friendly faces. For these reasons and many more, Costa Ballena is quickly becoming the hottest tourist destination in Costa Rica. Costa Ballena is packed with opportunities for fun and adventure. Travelers can enjoy a wide variety of things to do whether on land or sea, in the jungle or at a dinner table. Here is a list of 10 Things to Do when visiting Costa Ballena.
Get out on the Water
The warm waters of Costa Ballena team with sea life and adventure. Just think you will be cruising in the same waters that pirates and explorers sailed so long ago and wrote epic tales about. Whether you want to get close to a whale, swim with sharks and dolphins, scuba off of Cano Island, or land a billfish, Costa Ballena has it all. The fishing off of Costa Ballena is world class. We often hear of boats raising up to 20 sailfish in a full day charter, sometime more. Most fishing boats run out of Quepos and Pez Vela Marina, but there are smaller boats that leave from Playa Dominicalito and Bahia Ballena. The scuba diving around Costa Ballena is phenomenal. You can choose from spots like Cano Island or stay close to shore at the lively rock formation known as Baja Negra. Whale watching may be the most popular water activity in the area and for good reason. The whales love Costa Ballena and hang out all but 3 months a year.
The Whale's Tail is one of Costa Ballena's most famous attractions. It lies between Playa Hermosa to the north and Playa Uvita to the south. This beautiful sandy peninsula meets a rock formation roughly 1 kilometer offshore. The waves crash on the rocks to make the entire formation resembles a fluke of a whale or Whales Tail. The Whales Tail can be accessed from Marino Ballena National Park on low tides. This fun 2km walk takes you out into the ocean where you can view the jungle covered mountains that cover Costa Ballena and possibly the whales that visit the local waters. We highly recommend taking a stroll on the Whales Tail to see why it is one of Costa Ballena's main attractions.
Marino Ballena National Park or Parque Marino Ballena is a fantastic place to take the family for a day on the beach. The palm lined shore offers shade from the hot sun and the islands off shore provide stunning scenery and more protection from the powerful waves than most of the other beaches in Costa Ballena. The park gets it's name from the fact that whales from both hemispheres visit the area with their young and can often be seen frolicking just off shore. The park does not have great services. The bathrooms and showers were taken out a few years ago but plans are in place to put these back in place for visitors. Marino Ballena National Park can be accessed through Uvita or Bahia Ballena. The cost is $6.00 for tourists or $2.00 for locals.
There are so many waterfalls in Costa Ballena that you could stay busy for years trying to visit each one. There is one valley that stands out for having one of the best river systems in Costa Ballena, and Rancho Diandrew is the undeniable king of touring in this valley. San Josecito is a small town where the waterfalls and monkeys outnumber the residence. The rivers meander down the valley from roughly 3000 feet in altitude before they flow into the Pacific Ocean. Rancho Diandrew offers waterfall tours for any excitement level ranging from a peaceful swim in the cool waters up to cliff diving from 60 feet above a bottomless pool. If you are in Costa Ballena and enjoy rivers and waterfalls, you owe it to yourself to take a tour with Rancho Diandrew.
Costa Ballena is packed with beautiful beaches and great waves. There are popular surfing beaches such as Playa Dominical, but there are also secluded "secret" spots that are almost always uncrowded, and where you can catch as many waves as your arms will paddle into. There are beach breaks, point breaks, mellow waves and powerful waves to choose from so surfers of any level can enjoy the areas consistent swell. A few of our favorite waves are Dominical (of course) Playa Hermosa, Playa Dominicalito, The Point, and Chiman. Dominical is the only beach with lifeguards so if you explore, take a buddy and be cautious. There are stong rip tides that flow along Costa Ballena
Costa Ballena is quickly becoming the "live music mecca" of Costa Rica. Annual Music Festivals such as "The Best Festival" and "Envision Fest" draw musicians from all over Costa Rica and the United States to the beautiful shores of the region. Best Time Ever is a local promotion company that throws live music events in venues all over Costa Ballena and keeps a steady stream of musical talent visiting. They work at Roadhouse 169, Tortilla Flats, Roca Verde, Crystal Ballena, Rancho Diandrew as well as many other venues outside of Costa Ballena. We recommend taking a look at our event calendar to see what is going on while you are here if you are a music lover. There are some fantastic acts that you are likely to catch in small intimate and beautiful settings that will make your friends green with envy.
Voted "One of the top Fifty Beach Bars in the World" by CNN, Tortilla Flats is a must visit while you're in Costa Ballena. Located on the beach in Dominical, locals and tourist gather each day to celebrate life and the sunset. Often times you will see over 100 people on the beach clapping and cheering as the "ball drops" and the afternoon ends. After sunset everyone grabs a refreshing drink, an order of calamari and enjoys fellowship with travelers from all around the world while swapping stories. The food is great the beer is cold, and the vibe at Tortilla Flats is the best. My Guide highly recommends Tortilla Flats
Nauyaca waterfall is the grandest of all in Costa Rica many say. This huge 2 tiered waterfall cascades over 400 feet of large rocks before settling in a huge natural pool that is perfect for swimming. In addition to huge cliffs and natural pools, the jungle setting makes Nauyaca Waterfall even more special. The canopy hangs high above the pool and is full of the natural wonders of Costa Rica's flora and fauna. Thrill seekers can climb the waterfall to the second level and walk around or jump from as high as 100 feet into the pool. We advise you to exercise caution when doing these things and to make sure that your entry point is deep and free of underwater rocks.
Galloping on a horse is fun but doing it while taking in beautiful scenery makes it so much better. One of the best ways to see the beaches of Costa Ballena is to jump on a horse and go for a ride. You can cover more ground than on foot, and the local wildlife does not seem to mind seeing horses coming their way. Because Costa Ballena's jungle comes right to the ocean shore, tours often go from the beach to the jungle and back to the beach, so you get the best of both worlds and may see everything from whales and dolphins to monkeys and sloths. We highly recommend Rancho La Merced for your horse tour. They take great care of their horses, and their bilingual guides know where to find the wildlife.