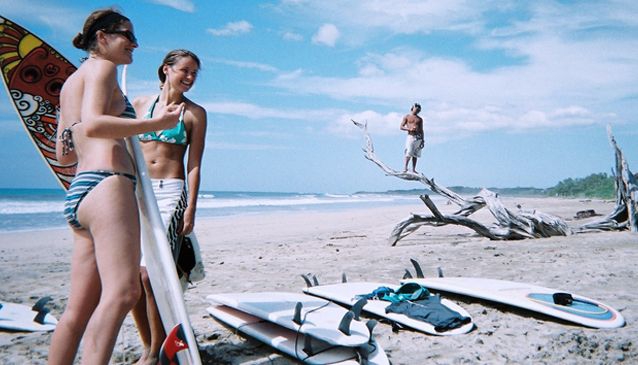 The Magic of Surfing Dominical, Costa Rica
Inspiration
Dominical is a laid back little surf town on the South Pacific coast of Costa Rica.
Surfing Dominical is a magical experience. Dominical is a laid back little surf town on the South Pacific coast of Costa Rica. An intimate community of 700 residents, made up of avid surfers and the burgeoning entrepreneurs who cater to them, it was once nothing more than a collection of fishing shacks at the mouth of the Baru River. But then around 1980, a group of adventuresome surfers discovered that surfing Dominical was a rare pleasure and word began to travel.
Surfing is one of the most popular things to do in Costa Rica. Today the 4km (2.5 mile) stretch of beach attracts surfers from around the world seeking its unusual surf breaks. In Dominical, where the rain forest meets the ocean, the waves are hollow, fast and powerful. They break both right and left. The sand bars that form at the mouth of Rio Baru create this uncharacteristic condition, throwing up 6ft swells that delight surfers. Further out, good point breaks can be found.
The bottom at Dominical is sandy with a few rocks near the river mouth. The best surfing occurs at mid-tide going low. Surfers should be wary of riptides and undertow.
After surfing, the town comes to life. Dominical is home to a number of small beachfront bars and clubs. These open air venues beneath the palms are the perfect resort for those seeking a cold bottle of beer and some laidback music underscored by the pounding of the surf.
The town faces the ocean across the beach. Numerous cabinas and small resorts cater to visitors. Restaurants serving everything from Thai food to tapas are within easy walking distance. There are yoga studios and sports rentals. Dominical is a town on the rise. The highway allows a straight shot down from Jaco and other crowded surf beaches further north. Surfing Dominical is bound to become more popular.
The good news is that while Dominical may remain the jewel in the crown of surfing on the South Pacific coast, there are plenty of other great surf beaches necklaced all the way down the coast from Dominical to the Osa Peninsula. Within a few minute drive Hermosa and Uvita Beach provide great surfing for those willing to venture a little further out. Those in search of an idyllic surfing experience will love Dominical. Ask anyone who has been there and they will confirm it. Surfing Dominical is magical.