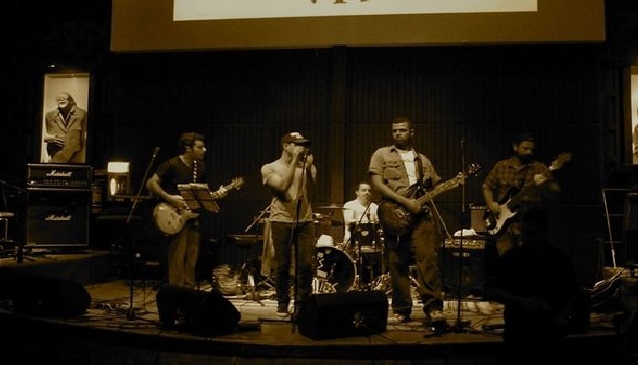 Live Music in Costa Rica
Arts & Culture
The venue has a missing wall, which creates an indoor/outdoor feeling that is amazing.
So you're a music lover planning your trip to paradise and you're wondering if you can catch a good show while on vacation. Well here at My Guide Costa Rica, we've made it a little easier for you, as we offer up our list of the top 5 intimate live music venues (ones that are less than 1000 people capacity). This list is for the bars and restaurants in Costa Rica that support local and international live music, making them one of the top things to do while in Costa Rica.
Jazz Cafe Escazu
If you think that the Jazz Cafe in San Pedro is older and more prestigious than the Escazu venue, you're right. But the thing we like most about the Escazu Jazz Cafe is that the sound is better, and the venue is more open and comfortable. San Pedro isn't bad; but when a venue is built from the ground up for music it will always have better acoustics than one being fitted into an existing building. The booking agents are good about filtering out bands that don't have talent so rest assured that if you walk in the door and pay the nominal cover charge that the music will be good. The Escazu Jazz Cafe brings in tons of talent from all over the world but usually host local acts. Take a look at their Facebook page to see the most recent calendar.
Latino Rock
Located in Barrio La California, Latino Rock is a hot spot for live music. The venue serves up all flavours including electronic, reggae, rock, Latin and more. The sound system isn't as powerful or clean as Jazz Cafe's, but the crowd always gets loose and into the shows so the vibe is really fun. The food is very good too and affordable so no need to eat before heading to the show. If you're looking for a true Costa Rican musical experience check out Latino Rock!
National Theatre
Well, it should be obvious that we aren't ranking venues on their looks or else the 2National Theatre would win hands down. The building is absolutely gorgeous and a must do while in Costa Rica. No other venue can hold a candle to the National Theatre in as far as looks and prestige. The reason it takes the 3rd spot and not the first is the brand of music that it usually brings. If you're into classical music, opera, or shows where shouting out isn't always welcomed, then the National Theatre is your place. Many amazing acts come through the National Theatre, so check their schedule of events at their website.
Mundolocos
Fun fun fun! This place knows how to throw a party and does live music every night. The venue is located in San Pedro and mostly attracts a Costa Rican crowd. The stage is large enough and the venue itself is fairly small, but the sound and lights are great and never overpowering. The food is also very good, and the beer prices are low enough that you will probably enjoy a few too many. We have seen a few shows here and love this venue.
The Roadhouse 169
It's the one venue that is not in the big city of San Jose but The Roadhouse 169 deserves a spot on the list. Located in Uvita de Osa, The Roadhouse 169 is a perfect small venue for live music events, and if you're looking for some unusual things to do while in Costa Rica this maybe it. The owner is building a reputation for bringing amazing talent from the States and for hosting some of the best parties in all the land. The food is amazing (we recommend the fish tacos), and the drink prices are very fair. You can actually get Costa Rica Craft Brews here, which is a novelty in the area. The venue has a missing wall, which creates an indoor/outdoor feeling that is amazing. It also keeps the sound levels to a bearable volume for even the oldest concert goers.
That wraps up our top 5 list. It was a hard slog and many others did not make it, so we decided to have an honorary mention below.
Barba Roja is another great venue located in Manuel Antonio. The indoor stage just isn't big enough to make the top 5 list, but the owner says that he is working to cover the outdoor stage so that he can host large shows year round. Once he does this look for Barba Roja to make it into the top 5 music venues of Costa Rica. One word - sunset!
Jazz Cafe San Pedro - We love this venue, but the vibe is always a little scrunched at the shows we attend. If you want to sit and chill, then this is your own little paradise. If there was more space to dance in the San Pedro Jazz Cafe, it would make our top 5.
Los Amigos in Jaco - When they decide to throw a party they do it right. Los Amigos does not have a stage of its own, but they rent one from time to time and throw some amazing live music events. Stay tuned to their Facebook page for updates. If you are lucky enough to be in town when they throw down, go check it out!
That concludes our top 5 music venues in Costa Rica. We hope you are able to enjoy fantastic music while you are visiting the land or Pura Vida. If you want to learn more about the music scene in Costa Rica check out Best Time Ever , a company that makes live music happen in Costa Rica.