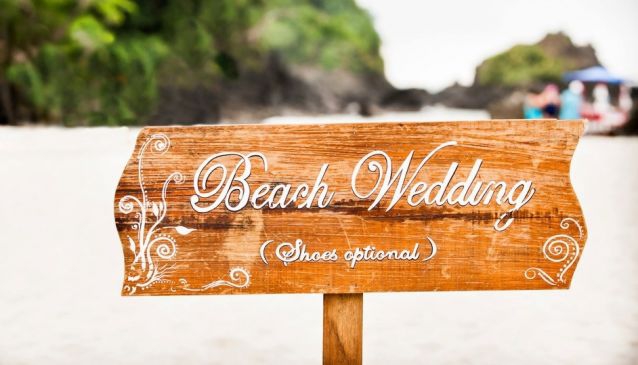 Costa Rica Weddings
Editorial
True Love is not a Happy Ending ............ It's the Perfect Beginning
One tradition that has changed immensely across the globe is wedding ceremonies. The majority of couples in this day and age invent ways to celebrate their special day their own way, some with touches of tradition, and others laying all tradition aside. Outdoor venues have replaced church sanctuary's, personal vows have replaced the traditional "I do's" and the "destination wedding" is the latest craze in lieu of family neighborhood settings. It is no surprise that Costa Rica has become a favorite selection for destination weddings. Prospective couples can exchange vows and begin their new lives together in an exotic location that rivals any other. Exotic does not necessarily mean expensive in Costa Rica. If you have a limited budget but still desire to get hitched in paradise think "outside the box" and you should be able to create your dream wedding while staying on budget. After all, Costa Rica enjoys coastline with gorgeous beaches on 2 different oceans, dramatic backdrops of majestic mountains, valleys full of rivers and wildlife, and lively volcanos that spew lava. Finding a unique place that fits your personality and is within your budget is just a matter of doing some homework.
Beach venues come in all shapes and sizes and fit into both small & large budgets. Large resorts will pull out all the stops to make your special day an extravaganza beyond belief. Small boutique hotels and eco lodges will add charming touches that are sure to make your wedding special. Costa Rica's mountains & valleys also offer appealing options for destination weddings. Small churches set among the mountain towns are quaint & make great choices if you are looking for a more traditional church wedding. For the non-traditional couples, there are a wide variety of resorts & lodges that are "full service" and can help arrange details. If your wedding guests have a variety of different budgets, consider saying your wedding vows and holding the reception in one of the luxury resorts or small lodges located around San Jose. Your guest can then go their own way to visit National Parks, volcanos, or beaches while you and your new partner take off to a dreamy Costa Rican honeymoon spot. Costa Rica has gained popularity as a wedding destination because it caters to every desire and has so much to experience no matter the budget.
One amazingly beautiful resource that every wedding venue has access to is the tropical flowers that grow with an abundance in Costa Rica. These colorful blooms can transform almost any space into your dream wedding venue. Add mother natures gift with the natural sunsets on beach venues and you have a wonderful backdrop for early evening wedding vows with plenty of creative photo opportunities. If a sandy beach location is not your cup of tea, Mother Nature has provided even more solutions in Costa Rica. The world famous Arenal Volcano has turned up in thousands of wedding photo's taken at various resorts & lodges in the area that host wedding events. Certainly a dramatic backdrop with cooler temperatures and lush shaded venues.
It is your wedding day so everything should be exactly the way you want it. Choosing the right wedding coordinator for your Costa Rica wedding is the first step in relieving wedding plan stress. A good coordinator will do an interview with you so they can document the vision you have for your wedding day. Weddings Costa Rica, Tropical Occasions and Our Costa Rica Wedding are three of the most recognized private services while the large resorts will have someone on staff dedicated to these services. Don't rule out the wedding services you may see on some of the small boutique hotels and eco lodges as they put together some charming alternatives. Take a look at our "Wedding" tab to view some of the fantastic wedding venues and services in Costa Rica. Link to their FB page & websites to take a look at their actual wedding shots and packages to get a clear picture of what they can offer you. You can also use review pages such as TripAdvisor to see the experience others have had with those you may be considering.
Regardless of the chosen venue, there is something special about sharing vows in Costa Rica. We learned a long time ago that the "Pura Vida" phenomenon begins as soon as your feet hit the ground in Costa Rica. It never leaves you & continues to beckon you long after you've returned home.
Congratulations from My Guide Costa Rica!