Get Lost in Zancudo, Costa Rica
Adventure
Due to its remote location, Zancudo is a somewhat less travelled region of Costa Rica.
Our Top Experiences and Tours in Costa Rica:
If youʻre booking your trip to Costa Rica last minute, we have you covered. Below are some of the top tours and experiences!

There are two ways to get to Zancudo: by boat or by car. I can't recommend the driving option, unless you have no other choice. The road from the Costanera highway to Zancudo is a long and uncomfortable one: it took us roughly 2 hours to travel 70 Kilometers. Unless you travel in a modern 4x4, I suggest getting yourself to Golfito (a 20 minute drive from the highway) and taking a 6 dollar boat ride to Zancudo. This option is more scenic and less of a headache.

The first people we met were a couple of honeymooners from Alabama. They were drawn to Zancudo by stories of an endless stretch of beach, where tourists are a rare sight. We had heard the same thing and weren't disappointed by the soft sand, swimmer friendly waters and romantic sunsets of Zancudo.

Due to its remote location, Zancudo is a somewhat less travelled region of Costa Rica's south pacific. Despite this, it's a great example of things to do in Costa Rica. Foreign couples and local families are the types of people we observed. If you are tired of the tourist traps, the souvenir shops or the overall pressure to "do something" that often arises when on vacation, Zancudo is a good place to forget about all that. The people are friendly and quiet, they go about their daily activities, and seem to be genuinely indifferent and uninterested at the sight of a foreigner.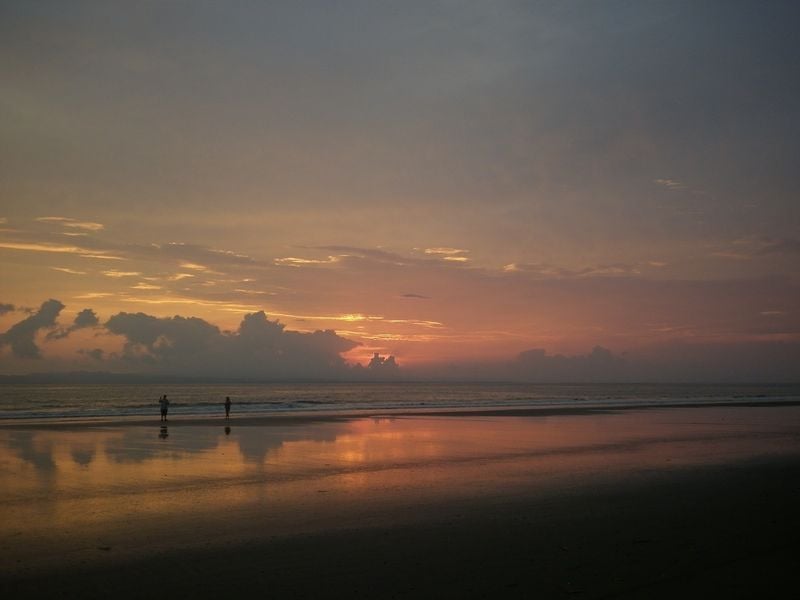 The region is also uniquely positioned at the intersection of river and sea. This setting, along with the overall low levels of traffic through the area, combine to create a wildlife paradise, ideal for sightseeing. Fishing and river tours are offered for those who care to venture into the unknown. Swimming in the river is discouraged as crocodiles lurk in the waters.
The 5 kilometer stretch of road leading up to the Zancudo point is speckled with accommodation. Prices range from 30$ to 100$ and above per night. Virtually all hotels/cabinas are a stone's throw from the beach, with private entrances or public beach access nearby. Many couples rent apartments in complexes equipped with pools and cooking facilities.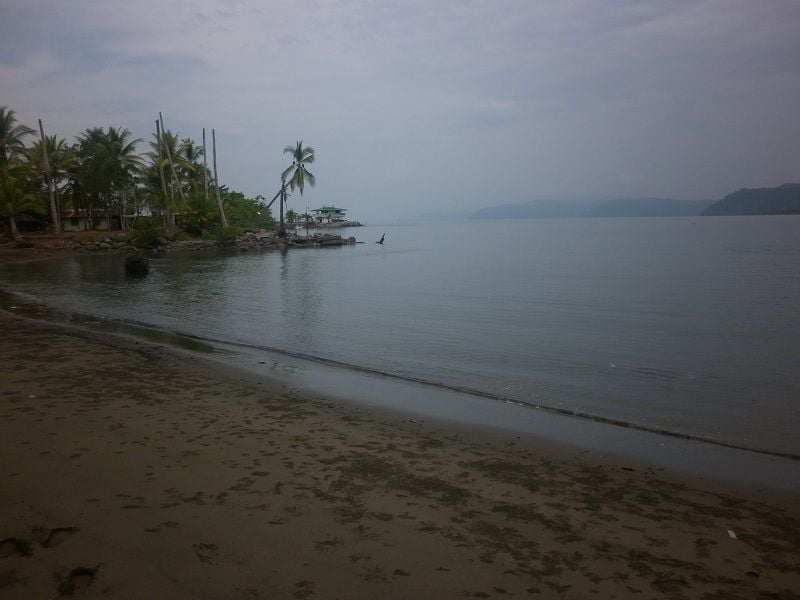 Zancudo is not a party destination. In fact you'll be hard pressed to find a real liquor selection anywhere in the area. If you enjoy a specific brand of wine or whiskey, you're better off bringing it with you. In general, supermarket prices are higher in Zancudo. Eating out is recommended at one of the well-lit "sodas" or any of the places geared towards the tourist crowd (you'll know which ones these are by the price list).
We found that following the rule of "the further you walk, the better things get," panned out. We stayed at Oceano, a restaurant/cabina on the beach. It is run by a friendly expat who lent us her bikes to go exploring. "Have fun!" she exclaimed with a smile. This is the overall spirit of the people we met here. If you get bored of doing nothing in Zancudo, Pavones is just down the road, a very popular surf spot that boasts an "amazing left-break." Whatever that means.