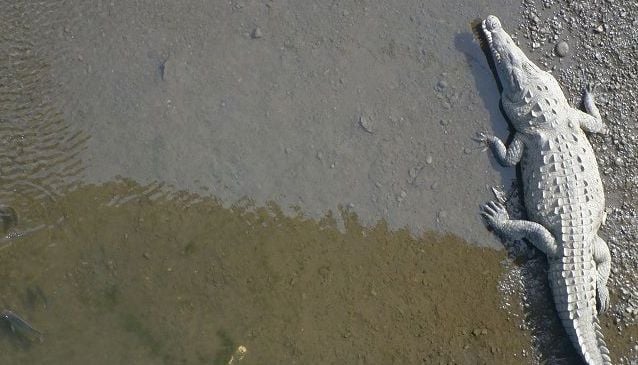 The Crocs of Costa Rica
Adventure
You'll be able to tell your friends that within an hour of the airport, you were feeding wild crocs.
An hour and a half drive from Juan Santamaria airport in San Jose, Costa Rica, you will find Jaco beach. One of the most accessible tourist destinations in Costa Rica, Jaco is often the first beach town that visitors encounter upon arrival in the country. It's a collection of all the things to do in Costa Rica, an ideal place for travellers who are short on time, but large on adventure and excitement. Among the activities enjoyed by families, couples and solo travellers include canopy/waterfall tours, sportfishing, crocodile feeding and, of course, surfing. A word to the wise, Jaco nightlife is not for everybody, some are turned off by the party scene and rough underbelly of the area. Whether it's for you or not, Jaco has a certain, undeniable charm that grabs the interest of many tourists.
Along the newly paved highway from San Jose to Jaco, you will find a bridge called "Puente de Tarcoles," located roughly 20 minutes before reaching Jaco. Make sure to stop and take a few pictures of the swarming crocodiles below, a real must-see. You'll be able to tell your friends that within an hour of the airport, you were feeding wild crocs. Make sure to bring some meat. A local tour guide told me "these crocs have been coming here for as long as I can remember, long before the tourists arrived." This unique vantage point is a solid reminder of the potential to observe wildlife in Costa Rica.
Sportfishing is a main attraction in Jaco. After an early morning jog along the beach, I decided to stretch out and watch a fisherman try his luck. I was skeptical of his technique, casting from the beach into the shallow water just beyond the intersection of the sea and the sand, but he seemed confident. After a minute or so, he was reeling something in, with a-not-so-surprised look on his face, something close to boredom. He handed off the rod to a reluctant on-looker who obviously had never handled a fishing rod before. The poor guy pulled in a few reels but ended up handing the rod back to our pro, whose name is Tony. Apparently, Tony is a fishing guide from the USA who moved to Jaco years ago to start a fishing business. I now understood his calmness when reeling in the 6 kilo fish he caught (Tony's estimate). Tony can't believe his luck, "I get paid to fish!" he said, handing the fish to a local boy who was watching the whole spectacle. If you are looking to reel in some big game, get yourself to Jaco and ask for Tony.
If you get tired of Jaco, which you eventually will, head south about 20 minutes to Playa Hermosa. This quiet offshoot of Costa Rica's main attraction is a place for surfers who want bigger waves and travellers looking to relax. The highway is scattered with prime picture taking spots, looking back at the city over the ocean. Make sure to pack the camera.