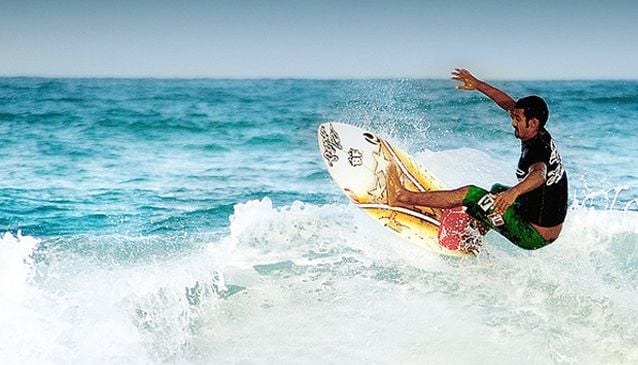 Surfing in Matapalo, Costa Rica
Adventure
We love surfing in the Matapalo area because these 3 waves have something for every skill level
I live in a gorgeous area of Costa Rica called Costa Ballena, but I love heading south to the Osa Peninsula and the beach town of Matapalo. Matapalo is sandwiched between Corcovado National Park, which is widely accepted as the most bio-diverse place on earth, and the warm, rich waters of the Golfo Dulce. This location makes it an ideal destination for nature lovers and surfers looking for a "Garden of Eden" like environment with world-class waves, epic fishing and a huge array of amazing wildlife. There is never a want of activities in Matapalo.
Getting to Matapalo is not as difficult as it once was. The main road servicing the area is paved all the way to Puerto Jimenez and most of the river crossings, that were once treacherous in the wet season, are bridged. The dirt road between Jimenez and Matapalo was in good enough condition for us to travel at 40km an hour making the trip between these two towns roughly 1 hour. There is also a small regional airport located in Puerto Jimenez that services the region.
Once you arrive in Matapalo you will find a variety of cottages, rental homes, and eco lodges situated in an idyllic setting that's bustling with an abundance of tropical flora and exotic wildlife. One thing you won't find is stores, gas stations, or places to purchase food and supplies. Make sure that you either have all inclusive accommodation or shop in Puerto Jimenez before you arrive. Our advice is, buy more than you need. Traveling back to Jimenez from Matapalo is not a good use of time.
One of the favorite pastimes of the locals is surfing. There are 3 amazing right hand breaks at Matapalo. "The Point" is the largest wave and almost always has something you can ride. The bottom is a mix of sand and rock so be careful and ask a friendly local to point out the rock heads. The wave is a high to mid tide break with the low tide becoming too dangerous for most surfers.
"Backwash Bay" on the other hand is just around the rocks and is a mid to low tide wave. The small bay becomes as flat as a pond on higher tides. Backwash is one of our favorite waves in all of Costa Rica. It can hold a huge swell and mostly breaks in the safety of deep water. There are a few rocks in the lineup but most are at least 4 feet below the surface.
"Pan Dulce" is the smallest of the waves but usually has the best shape and breaks over a longer distance than the others. There is a small boil at the main peak that could throw less experienced surfers for a loop but it is fairly safe. If the boil freaks you out then you can easily hang inside the bay and still catch 150-meter long waves.
We love surfing in the Matapalo area because these 3 waves have something for every skill level and are just plain fun. Some of the locals are a little possessive over the waves and may be somewhat rude. You should be able to avoid this by being respectful, not trying to take off on every wave and following the basic rules of surfing. Remember that you are a guest in their town.
We plan to write follow up articles about the wildlife, fishing, and other activities found in the area. Stay tuned!