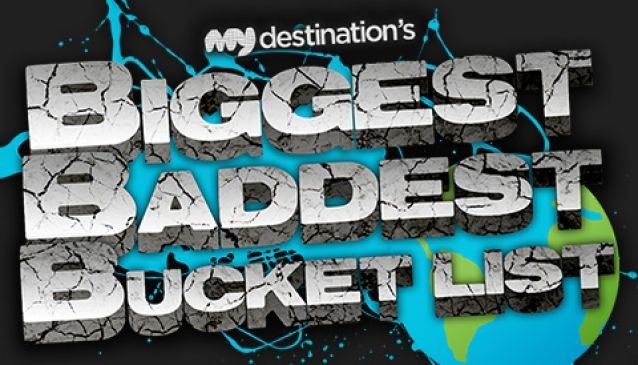 Biggest Baddest Bucket List
Editorial
Have you ever had the dream of traveling around the world and seeing some of the things you have only been able to experience through travel magazines, movies or websites?
My Guide has gone global to give you an opportunity to enter a contest that can make your dream turn into the Biggest Baddest Bucket List reality! Travel six continents visiting the 35 destinations from your bucket list - all expenses paid! And if that is not enough, when you get home you will have to go to the bank and deposit your $50,000.00 check waiting for you.
Find out all the details to enter and start filling your bucket list with all the incredible destinations you want to see and things you want to do at www.MyDestination.com/BBB
Come back and read why you would want to add Costa Rica to your list! We will be your host on your trip to Costa Rica if you win - so let us show you around!
A playground for the adventurous, Costa Rica offers fun in the sun along it's mutiple shorelines, cities with lively nightlife, towering mountain ranges, tropical jungles and exotic wildlife all wrapped into one destination. Attracting the hearts of tourist all over the world, Costa Rica is a force to be reckoned with that you will not want to miss.
Your local experts hope to show you - the winner of this amazing contest - the time of your life while visiting Costa Rica. Get started now - stay focused & set your mind to becoming the winner of Biggest Baddest Bucket List !
We have shared just a few of the exciting adventres you can find in Costa Rica but there is a long list to choose from. Your local experts at My Guide Costa Rica are getting ready for your arrival & to assist you in any way.
1. Costa Canyoning - Exhilirating and refreshing adventure.
2. Rancho Diandrew - Andrew's waterfall tours are exceptional!
3. Uvita Surf School - Learn to surf or go whalewatching!
4. Sportfishing Dominical - Get your adrenaline pumped up.
5. Osa Canopy Tour - Zip through the lush jungle.
In some destinations you get a city with all the well known sights to visit while others offer a terrain with adventures in the great outdoors. With Costa Rica you get it all wrapped up into one great destination so you experience a little of everything.
1. Great selection of accommodations
Take a look at the variety in Costa Rica. Beachside on the Pacific or Gulf of Mexico, cliffside in the Osa or Nicoya area overlooking incredible oceanviews, quaint mountain lodges with peaceful jungle views and some that have all of the above in one location.
Get up in the morning, have coffee on your private terrace, zipline later in the day, all without getting into a car at Punta Gabriela. Mareas and Cuna del Angel are several top choices if you want to be hidden away in a tropical surrounding but close to your favorite things to do. The views of the Osa coastline from Villas Alturas will stop you in your tracks when you see it.
Perhaps you want to experience the local scene in a small pacific coast village. Bungalows Ballena in Costa Ballena or Hotel Villas Rio Mar in Dominical are perfect choices.
Costa Rica is a diverse and exotic land rich in history and culture. The multiple eco systems form eight distinct regions, each with their own unique and entertaining characteristics. San Jose, the hub and capital, lies in the Central Valley. You can enjoy a variety of nightlife, museums, unlimited choices in cuisine and first class shopping in this lively city. Venturing out from San Jose to the outer regions, in any direction, allows you to enjoy an array of wildlife, pristine beaches, awesome waterfalls and colorful flora.
We love waking up every morning in Costa Rica - you will love it too!
Pura Vida is a local acknowledgement used in every day life in Costa Rica. You will hear it in conversations or when greeting one another after your arrival. The key to its real meaning varies and reflects a personal twist from the person using the term. To someone who has never experienced Costa Rica, it would simply translate as pure life. After your visit - it will translate quite differently!