Snackfood, Costa Rican Style
Food & Drink
People say they'd fly here just to eat one, and then fly home happy
Our Top Experiences and Tours in Costa Rica:
If youʻre booking your trip to Costa Rica last minute, we have you covered. Below are some of the top tours and experiences!

Whenever friends and family visit me in Costa Rica, it's always fun to take them to the grocery store, and watch their expression as they scan aisles for familiar items. While experienced travellers are used to trying new things, I get a lot of comments from visitors who wish they had known their favourite snack wasn't readily available in Costa Rica. Part of a great vacation is trying new things. Why should this be different when it comes to food and snacking?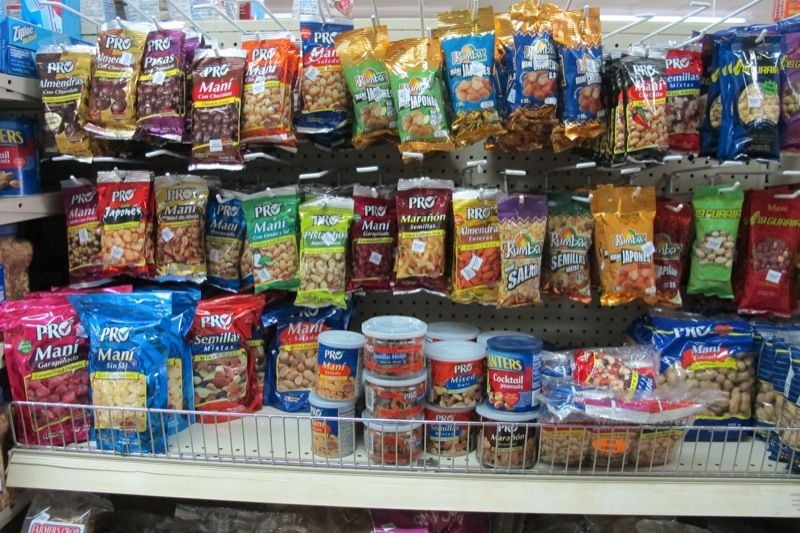 Despite a wealth of delicious restaurants in Costa Rica, the truth is that Ticos love to snack and enjoy the same flavour combinations that the rest of the world does. Usually there's an item similar to your favourite snack that just carries a different name and is hiding in unfamiliar packaging. Take Doritos for instance. You can sometimes find these amazing little treats in the larger chain stores, but you will be hard pressed to find them in gas stations and the small abestadores that are in the smaller beach and mountain towns. Do not despair! You can still get a similar taste in every corner of Costa Rica by picking up a bag of Picoritas or Bravos. Of course, not many things taste as good as Doritos, but these two options will definitely fill the void of the flavour-blasted corn chips. Another favourite of mine that bears mentioning is Menitos extra queso. These Cheeto like cheesy puffs are simply amazing and so cheesy that your fingers grow little orange afros as you descend further and further into the bag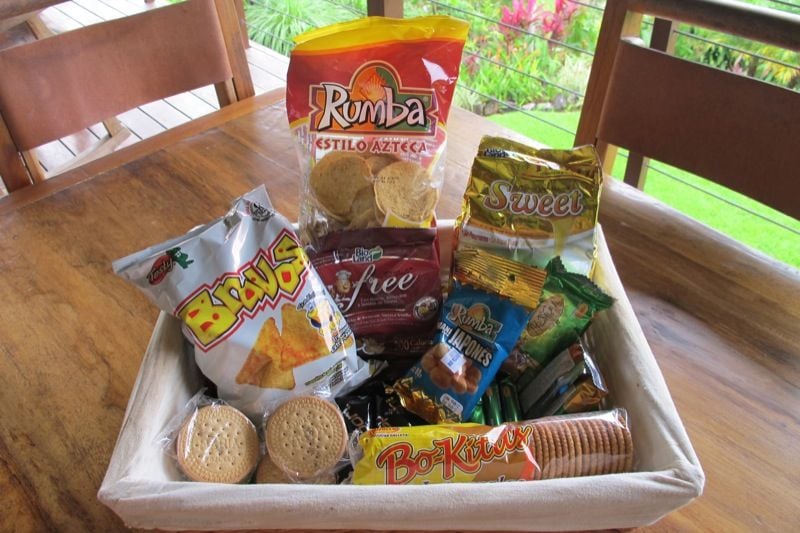 When it comes to cookies, Costa Ricans really know their stuff and have perfected the art of mixing flour and sugar together when baking. I could list many brands of cookies that are exceptional, but let's stick to the big 3; Mantequilas, Marias, and Chilky Blaks. While all of these are stand-out in my opinion, the Chilky Blaks take the "cake" by a mile. They blow traditional American favourites like Oreos out of the water.

On to the ice cream bars and sandwiches! There no way better way to cool off in the hot Costa Rica weather than with an ice cream. Ask almost anyone that has spent time in Costa Rica about Trits and you will often hear that groan associated with pure pleasure upon taking that first bite. Trits epitomize Costa Rican junk food like no other junk food item. Picture a moist oatmeal cookie packed with vanilla ice cream and then coated in chocolate sauce. I have heard people say that they would fly to Costa Rica just to eat one and then fly home happy without having done anything else. They are just that good. For those that don't enjoy Trits (they need their heads checked) there is the super chocolaty Mmmiio. This is vanilla ice cream, peanuts, and tons of caramel wrapped in a chocolate shell. They are not as good as Trits but not bad for a change of pace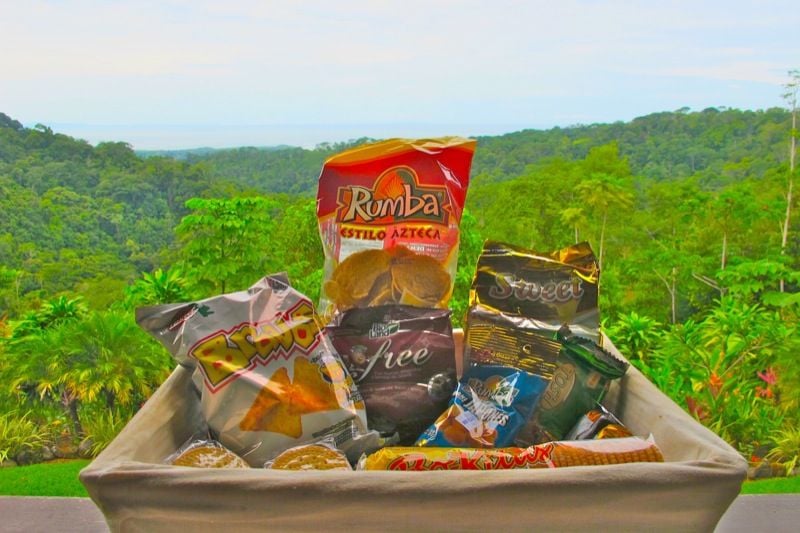 There are many other amazing junk food treats to be had while in Costa. The list goes on and on. Try Japones nuts, Guayabitas, Albaratos, Cajetas, Choco Mente and more. The good news is that most of the items I mentioned above are relatively inexpensive so if you don't like it, offer it to someone else and try again. Stay tuned for our next food article that covers the road side foods such as ceviche, pipas, baked goods and fresh fruits. Happy Snacking.